Gathering individuals' stories about Self-care and Wellbeing
Researchers based at Northumbria University and Terrence Higgins Trust have conducted a series of creative workshops that aimed to discuss self-care practices for living well with HIV and managing the condition. The workshop focused on gaining an understanding of how people living with HIV engage in their own care, and explored what wellbeing may mean for individuals in daily life and in the context of sharing personal information with their healthcare providers. More specially, the activities encouraged participants to discuss what types of information they might find valuable to share with their clinicians and what might be the potential barriers or concerns about information sharing in this particular context.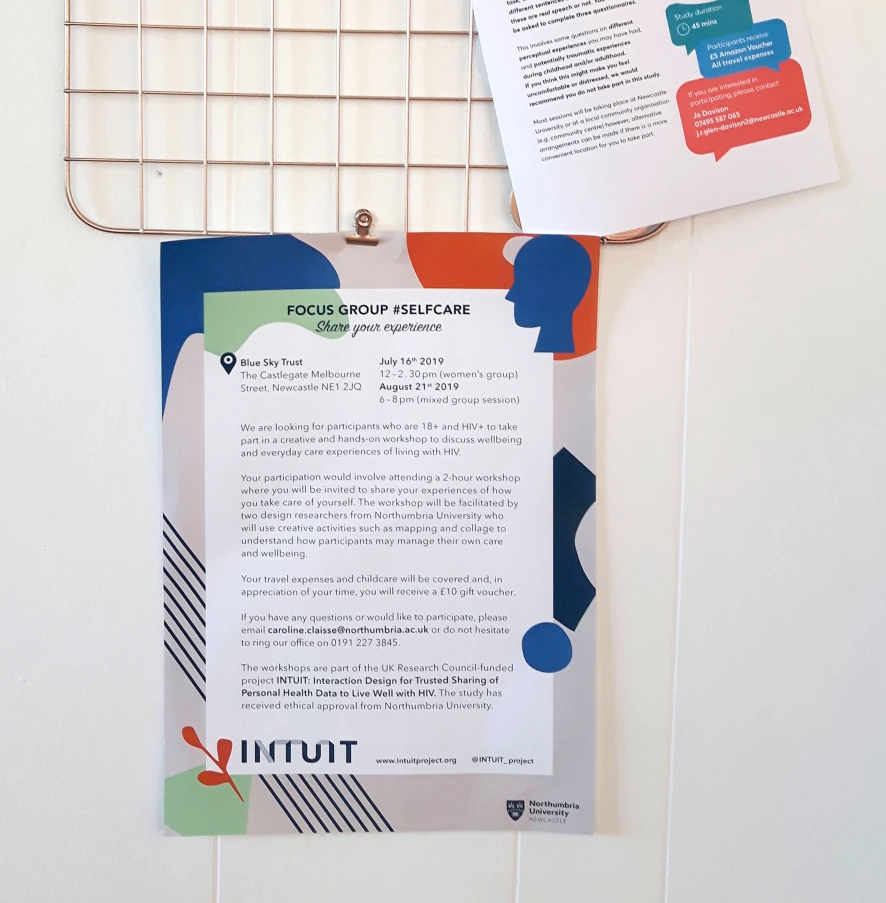 Who we involved
The workshops were organised in the spaces of INTUIT's partnering organisations: one session took place in London at Terrence Higgins Trust and two in Newcastle at Blue Sky Trust. Hosting sessions in two different cities enabled a wide range of people to participate. 17 participants took part in total and, overall, there was a broad diversity across geographical location (city and rural), age, ethnicity and sexuality.
Design-based methods
The workshop featured creative and hands-on activities that helped participants communicate their experiences in a new way. Every activity was designed with care where we used visual-based and sensory materials to channel participants' communication and discussion. Examples of activities were the creation of small, personal artefacts to share something about oneself, and mapping activities to visualise self-care practices and networks of care. Overall, feedback from participants was positive and highlighted the value of design-based methods to scaffold the sharing of personal experiences.
Reflection
The activities were designed to think beyond HIV, to consider people's experience of self-managing their health and wellbeing more broadly. We observed how the creative and hands-on activities encouraged discussion and sharing among the groups whilst giving participants' agency. It was interesting to note how the collective activities facilitated peer-to-peer support among the participants.
Next steps:
We are currently analysing participants' conversation and objects created as a result of the workshops. This study is complemented by a three-month diary study that prompts individuals living with HIV to reflect on their experience of capturing and sharing personal information for the purpose of self-care and wellbeing. The diary study aims to deliver rich insights on the personal value of capturing health-related information over time, and how this might be relevant for patient-clinician communication.
We thank our participants for all their contribution, and our partnering organisation; THT and BST, for hosting the sessions and for their ongoing support with the research.