Understanding trust, security and privacy concerns for adults living with HIV: new findings
The INTUIT team have just published new findings from a recent study. The study was led by Adrian Bussone, Simone Stumpf (City, University of London) and Bakita Kasadha (Terrence Higgins Trust) and evidenced that adults living with HIV view trust, privacy and security online in ways that are strongly linked to their own personal and digital identities.
We found that participants were motivated to share personal health information online when there was an opportunity to connect with community members and when their information could be used to benefit other people living with HIV. Moreover, participants showed a highly sophisticated understanding of privacy, which has not been seen with participants living with other long-term health conditions.
The paper reporting on these findings is freely available to download.
The Study: what we wanted to know and what we did
The study was led by City University, one of the six academic partners on INTUIT. The study was conducted in 2019 and aimed to understand:
What trust, privacy and security means to participants, when sharing their health information with others;
how participants view trust, privacy and security when using online spaces;
What aspects of personal information participants are willing and unwilling to share online with others;
How a sense of trust, identity, security and privacy impacts how participants share personal health information with other people living with HIV.
We interviewed 26 adults living with HIV across the UK. A diverse group of adults were included (diverse in location, gender, ethnicity, sexuality, age and route of HIV transmission). For more information about who was interviewed, read our earlier INTUIT blog post: Understanding trust, security and privacy concerns for adults living with HIV.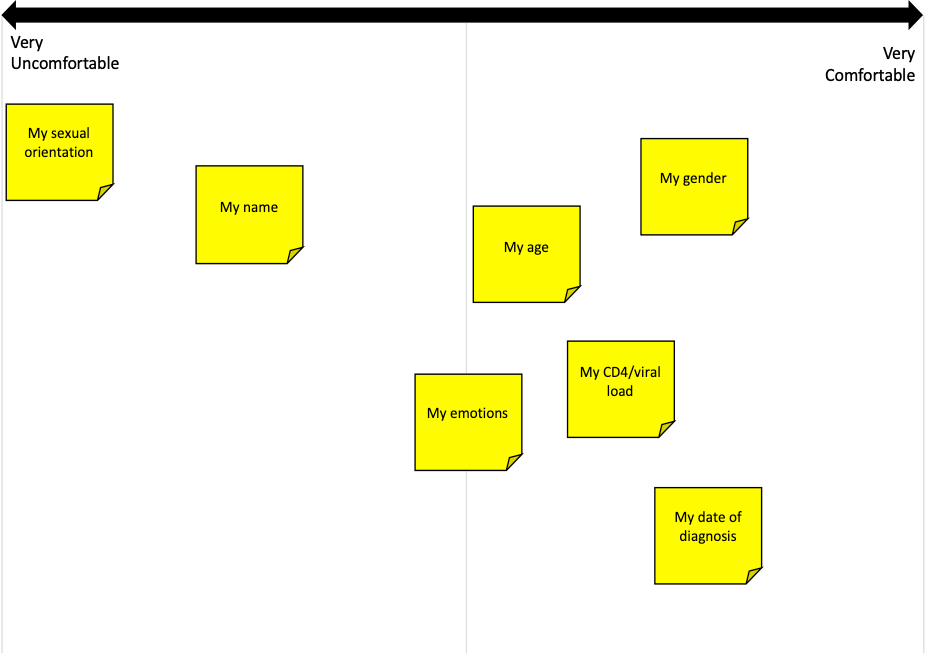 We collected qualitative (words and meanings) and quantitative (numbers and statistics) research data; this is known as a mixed-methods approach. As well as interviewing participants, we asked them how comfortable they felt sharing different information about themselves (e.g. name, location, gender, medical results, weight, relationship status) in different online situations. These situations included exchanges with other people living with HIV, with healthcare professionals, and with unknown third parties. We asked participants to measure their comfort level between 'very uncomfortable' and 'very comfortable'.
What we found
How people living with HIV understand trust, privacy and security:
almost all of the participants had a very good understanding of trust, privacy and security that aligned with our definition on the INTUIT team;
up to two-thirds of participants were able to define these concepts very easily;
Participants frequently thought about individual and organisation characteristics or attributes when explaining how they establish and maintain trust.
How people living with HIV feel about data privacy:
participants were largely open to sharing a wide array of personal information (data) types;
participants' comfort ratings were linked to the perceived benefits of tracking and sharing data;
participants were less comfortable sharing information that may reveal their personal identity. This was particular true when participants felt their identity was in the minority (e.g. trans identity, living in a rural area etc.).
Concerns and expectations for sharing personal information (data):
participants frequently thought about the characteristics and attributes of trusted individuals or organisations when deciding whether to trust them with personal information;
participants expected there to be a privacy policy on (nearly half expressed a preference for sophisticated privacy controls);
more than half of our participants stated a need for strong security, similar to a banking level;
ground rules about behaviour and ways to interact were seen as being important online (as they are in face-to-face HIV support groups).
The publication reporting on our findings in full is available to all to download at this link: https://openaccess.city.ac.uk/id/eprint/24730/. It is entitled 'Understanding trust, security and privacy concerns for adults living with HIV'.
Simone Stumpf, INTUIT Co-I at City, presents this paper at the 2020 CSCW (Computer-Supported Cooperative Work and Social Computing: https://cscw.acm.org/2020/ on 19th October 2020.
What we're doing next
The insights from this study have informed the design research on the INTUIT project, exploring and testing ideas for supporting self-care through mobile and web applications that enable their users to record, reflect on, and share personal information about their daily lives.
Many thanks to our interviewees! Many thanks to the HIV organisations Brigstowe, George House Trust and Terrence Higgins Trust for allowing to hold our interviews at the offices of their respective organisations.